MUMBAI: Commuters on
Western Railway
's (
WR
) suburban network will get real- time information in the compartment in case of any snag in the train or problem on tracks during the commute. The Mobile Train Radio Communication will also ensure smooth communication between train crew and the control system.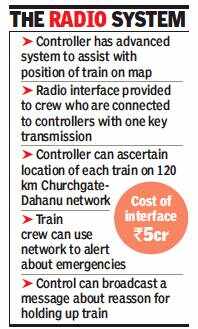 WR's chief PRO Sumit Thakur claimed that the system will improve communication between the control room and train or between various trains. "This system is used in metro and monorail projects and has proved successful to communicate between controller and crew," said Thakur. The communication system is in its final stages of implementation.
At present, in case of emergency, train crew can alert the control room over cellphones. "But train crew are not allowed to use mobile phones. Also, network is erratic due to weak signals that can also cause miscommunication," said Thakur.
In the radio communication system, the control room can communicate with each train individually, or with a group of trains or all trains simultaneously. Thakur added that a group call can be made to pre-defined and dynamic group of trains.
A senior railway official said that the biggest advantage of this system is broadcast can be done via public address system directly from the conttrol in each compartment of that train or group of trains.
Thakur said that currently, there is no mechanism on trains to broadcast any message to WR's 35 lakh passengers who use it daily, especially in case of major disruptions. "This causes passengers to jump off trains and walk on tracks, thus posing a risk to their lives. Timely information will help reduce anxiety of passengers," he said.
Train crew can immediately convey a message about water level on tracks so that an informed decision can be taken on train running pattern. Also, messages about an accident victim lying on the tracks can be conveyed to the control room to arrange for help, he said.