KALYAN: Preparations are in full swing for the Shiv Mandir Art Festival in Ambernath starting March 16 and will go on till March 19.
Chief minister Eknath Shinde will inaugurate the festival on March 16 and this time 'Maha Aarti' will be performed by him at the temple.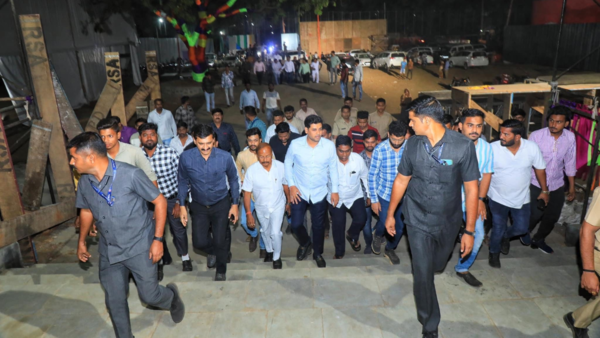 The Ambernath Shiv Temple festival, which started five years ago by Kalyan Lok Sabha MP Dr Shrikant Shinde, could not be held for the last two years due to Covid restrictions.
Ambernath city has a 963-year-old Silahar period Shiva temple.
The festival will feature mesmerizing musical performances by globally acclaimed artists, a variety of food stalls showcasing regional cuisine, exhibitions of works by renowned artists, photography displays, live painting demonstrations, portrait and sculpture displays, and much more.
The festival which is organised by MP Shinde's Dr Shrikant Shinde Foundation, the citizens will get to experience the joy of such programs one by one. Similarly, like every year, this year too, the magnificent art galleries of the festival will be a special attraction of more than 60 famous painters and sculptors.
This year too, like every year, more than 60 famous artists will perform their best works in front of the audience in the art hall that will be set up at the festival site.
Some of the artworks created by the artists will be displayed in the art gallery. This art exhibition will be the highlight of the festival.
This year, the festival is being organised with great enthusiasm and gaiety as there is a restriction-free atmosphere everywhere.
Thousands of spectators from surrounding towns along with Ambernath come to enjoy this festival.
At the festival, Rakesh Chaurasia, Pankaj Udhas, Amit Trivedi, Anuradha Paudwal, Mohim Chauhan, Maithali Thakur and Shankar Mahadevan will perform their popular compositions in this festival.
Sachin Chaudhary and Ratan Shah, national award winners in the sculpture category, will present their sculptures.
Along with him Prabhakar Singh, Atish Palvankar, Siddhi Belvankar, Manish Shinde will present their artworks in the exhibition.
Citizens will be able to experience modern art along with traditional sculpture through these works of art.