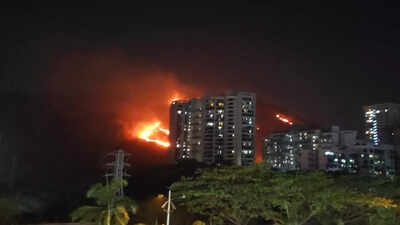 Wildlife activists have alleged that these are deliberate attempts to destroy the biodiversity.
NAVI MUMBAI: A massive forest fire broke out on Wednesday night in Kharghar hills near the golf course in Navi Mumbai.
Environmentalists said it could have destroyed a lot of greenery in the area.
A fire was also seen at another part of the hill on Thursday night too.
Wildlife activists have alleged that these are deliberate attempts to destroy the biodiversity.
"Residents have been complaining for a long time about recurring fires in Kharghar hills with no visible action from any of the authorities. Frequent fires have been noticed in the summer season," said NatConnect Foundation director B N Kumar.
The area is inaccessible particularly during late hours, Kumar added.
There could be mischief behind the fire as the top of the hill being flat is the destination for picnickers, said locals.
"If unchecked, the area can be an ideal target for land grabbing," said activist Naresh Chandra Singh.
"We have been alerting the forest department and there seems to be confusion about the ownership issue," Singh said.
Some areas of the hill are controlled by Cidco which allots patches for quarrying.
Singh said, ideally, the entire hill range should be under the Forest Department.
There should be a proper inquiry into the frequent fires, said another Kharghar activist Jyoti Nadkarni.
Honorary wildlife warden of forest department, Pawan Sharma said: "Alert citizens must immediately inform the state forest helpline number 1926, as soon as they witness any forest fires in their areas."
Uran-based wildlife activist, Jaywant Thakur, commented that several forest fires have also been observed in Uran, Chirle and other parts of Raigad district in the past two weeks.
"We have a strong suspicion that illegal poachers who enter forests in order to hunt wild boars and other animals, purposely set dry grass and twigs lying around on the forest ground on fire in order to create smoke and fire to confuse their prey and nab them.
However, often, this fire spreads to other parts of the jungle, leading to serious damage to the trees and also birds, snakes among others," said Thakur, who has also intimated the local forest officials about this urgent issue.
NatConnect Foundation has also contacted the forest officials at Panvel in this regard for further action.
FOLLOW US ON SOCIAL MEDIA