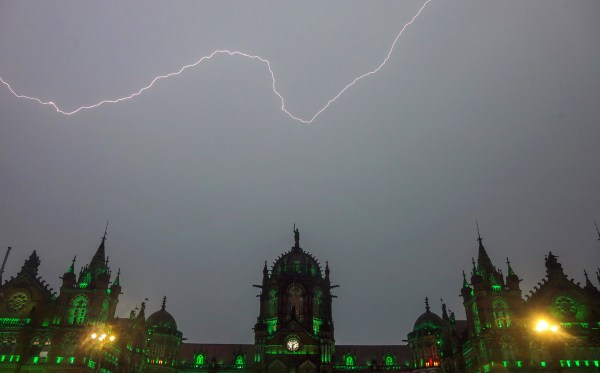 Lightning bolts in the sky above Chhatrapati Shivaji Maharaj Terminus during monsoon in Mumbai. (PTI)
Mumbai is likely to receive moderate to heavy rainfall between September 8 and 12, with a wet spell in the city on September 9, 10 and 11, which is likely to bring a cumulative 200 mm of rainfall in Mumbai, according to Skymet Weather Services, a private weather forecasting company. A cyclonic circulation and a low pressure area/depression is likely to come up over central parts of Bay of Bengal.
Meanwhile, a sessions court on Wednesday rejected an application filed by the mother of Khwaja Yunus to add four policemen as accused for his alleged custodial death. The court also allowed the withdrawal of an application filed by the prosecution to add the four as accused. Currently, four policemen are facing trial for the custodial death of Yunus in 2003.
In other news, after the Maharashtra government expressed its inability to fund and telecast educational videos in sign language for children with special needs, maintaining that it required assistance from the Union government under the Samagra Shiksha Scheme, the Bombay High Court recently directed the Centre to inform it about the existing policies for such learning methods.