MUMBAI: Officials at
vaccination
centres said that on Monday
CoWIN
's software didn't recognise that
beneficiaries
eligible for the
second dose
had already taken the first shot. In a few centres, the software crashed in the beginning of the day and remained sluggish. For many who took the
vaccine
on Day 1 (January 16), the software flashed that they had not completed 28 days. Even for many who got the second dose, the software generated a
provisional certificate
stating that this was their first dose.
In Mumbai, only five centres could even administer the second dose, while in most others, the software did not support even the creation of vaccine sessions. Of the 71,
BKC
's jumbo facility and BYL Nair could vaccinate 32 and 21, respectively, while Bandra Bhabha gave it to a dozen health workers. The remaining two centres, RN Cooper in Juhu, Parel's KEM Parel and Bhagwati Hospital, could administer the doses only to three, two and one person, respectively. Additional municipal commissioner Suresh Kakani said
healthcare workers
should visit vaccination centres only after receiving text messages or calls from the local ward office. "CoWIN was mainly responsible for the failure to vaccinate individuals with the second dose," he said.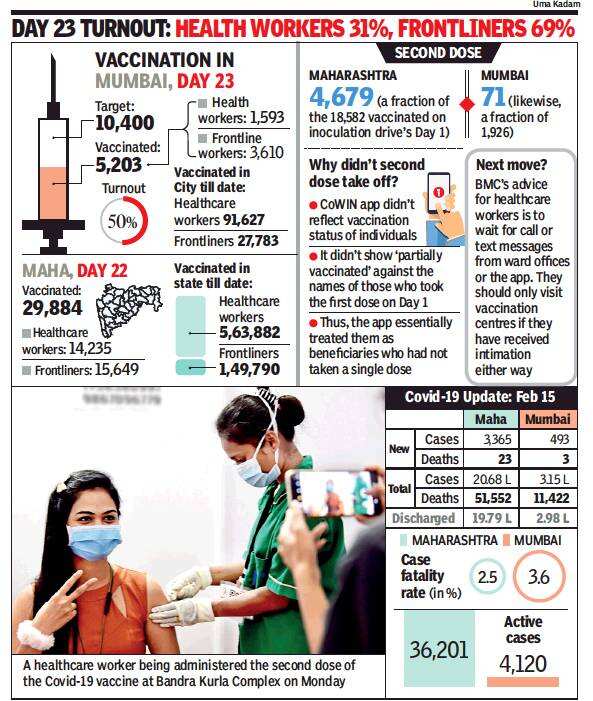 In Maharashtra, 4,679 got the second dose out of 18,582 who received the first dose on January 16. Pune district vaccinated the highest (525), followed by Nagpur (346) and Thane (341) in the state. As many as 14 districts out of the 36 vaccinated less than 100 healthcare workers on Monday with the second dose. A state official said they had anticipated this problem and are hoping for it to get resolved in a day or two.
Till 3.30 pm, two doctors had taken their second shot at KEM. The hospital's academic dean, Dr Milind Nadkar, who was the first person to be vaccinated at KEM on January 16, was among those who couldn't take the second shot despite turning up. KEM dean Dr Hemant Deshmukh said the glitches would take some time to iron out. "In a couple of weeks, the second round of vaccination should be smooth sailing," he said. The hospital vaccinates an average of 700 people a day.
At Cooper, senior medical officer Dr Jiten Bhavsar was among three who could take the vaccine on Monday. He said 53 of his colleagues had lined up but they couldn't be vaccinated as the app didn't reflect their names. Dr Rajesh Dere, dean of the BKC jumbo facility, said that they could vaccinate over 30, but had to turn away many. Dr Sachin Jain from Hinduja Healthcare, Khar, who got the second dose, said that since he didn't suffer any major discomfort after the first jab, he was keen on taking the second dose as soon as available.
Meanwhile, routine vaccination turnout in Mumbai plummeted to 50% in the city as only 5,203 of the intended 10,400 came to get vaccinated. Similarly, in the state, 29,884 people came to take the vaccine. A month into the drive, a little over 7 lakh, or 42%, of health and frontline workers, have got vaccinated out of the registered 17 lakh.