MUMBAI: The 'Wednesday effect' on Covid-19 cases is still apparent as the state's daily tally rose to 36 from 26 on the day before.
The number of active cases in the state, too, registered a rise in the last week – jumping 23% from 134 on December 23 to 165 on December 27. However, on Wednesday, the number of active cases seemed to stablise at 164.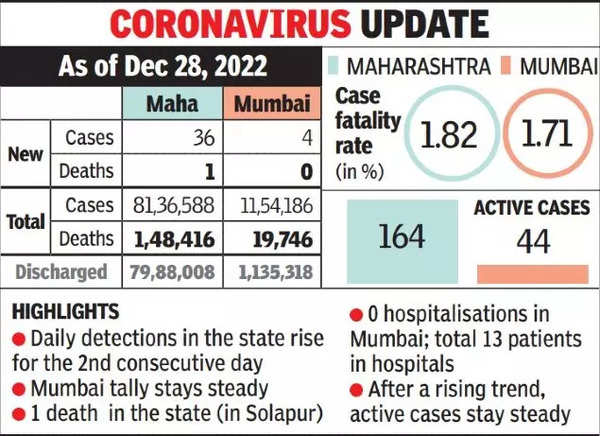 The state's surveillance officer Dr Pradip Awate, however, said there is no rising trend in the Covid pattern at the moment. He said the rise in active cases is a mere reflection of the fact that new positive cases continue in home isolation for seven days.
In Mumbai, too, the number of active cases rose from 35 on December 22, to 50 on December 25. On Wednesday, the number of active cases dropped to 44.
The daily number of cases in Mumbai continues to be under 10 for more than a week now; only four cases were detected on Wednesday.
A senior doctor from the BMC said that Covid cases are at an all-time low with no admissions. Even Seven Hills Hospital in Andheri which is BMC's main Covid hospital, has less than 10 admitted patients. On Wednesday, the total number of admitted patients in the city rose to 13 from staying under 10 for a few days; three out of them are on oxygen support. A doctor from a corporate hospital said no Covid cases have been coming to the OPD or for admission.
Although Covid cases have been at an all-time low, reaching March 2020 levels, doctors anticipate that the oscillating winter temperatures would lead to a spike in viral infections, including Covid. However, there is little possibility of the devastating Covid waves seen in 2020 and 2021.