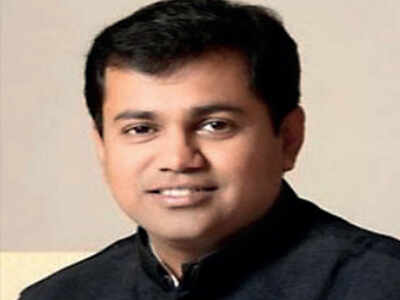 File photo of Maharashtra's higher and technical education minister Uday Samant
MUMBAI: University and college campuses in the state can reopen physically for students from February 15, after a 10-month-long break. The state's higher and technical education minister Uday Samant announced that colleges can start classes with 50% attendance on a rotation basis. Classes and examinations will be conducted both online and offline and attendance will be voluntary, he said. Mumbai University will take a call on the matter soon and issue its circular after deliberating with local authorities, report Sujit Mahamulkar and Yogita Rao.
Samant said universities can come out with their own SOPs, adding the mandatory 75% attendance rule will be relaxed and students will not be debarred from exams.
'Will try to match students' schedule with train timings'
University and college campuses in the state are set to re-open physically for students. The first phase of the reopening will be from February 15 to March 5, after which the state will review the situation and decide on the future course of action. Colleges will follow guidelines issued by the University Grants Commission on November 5, and the state higher and technical education department.
Hostels will not be opened for students in the first phase. "It will be necessary to conduct a structural and fire audit of hostel buildings before reopening. We will also have to see how students can be accommodated in the hostel rooms by following Covid norms," Samant said. "Many hostels are still being used as quarantine centres, and therefore outstation candidates can continue to take online lectures. Many who are apprehensive about joining physical classes can continue with online lectures too," he said.
The decision about reopening of colleges located in "restricted areas" will be taken by the university, only after consultation with the local body or district collector and district disaster management authority. Asked about the cases still found in hundreds in Mumbai, Pune and Nagpur circle, Samant said, "We have discussed the issue with all university vice-chancellors and district collectors, and there will not be an issue to reopen colleges anywhere in the state, including Mumbai."
Asked about students' commuting woes in Mumbai, Samant said the university was trying to work out their academic schedule to match the restricted train timings in the city.
An MU official said they have already prepared an SOP in line with UGC guidelines, but will release it only after consultation with the district authorities. He said the university has already worked out a plan for the rotational time-table. Students who have practical component will surely get priority over others, he said. The university's jurisdiction spreads over Mumbai, Thane, Ratnagiri, Raigad and Sindhudurg.
A city college principal said they would want to conduct practicals/projects physically, and lectures can continue to be online this term. Students from other states can come for practicals alone or can even opt out as attendance is not compulsory, he said, adding many have already called him to seek permission to opt for online mode. Another principal pointed out that transport is still a concern as local trains are only available at odd hours for the general public. He added that even with 50% attendance, there will be tremendous pressure on the infrastructure as laboratories are shared. Also, colleges are yet to figure out how they would conduct online and offline lectures simultaneously.
Meena Chintamaneni, registrar, SVKM's NMIMS University, said they are reviewing the government notification internally and will soon issue their action plan.
FacebookTwitterLinkedinEMail