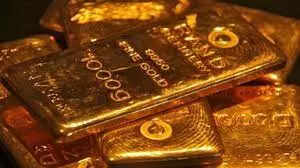 MUMBAI:
Gold prices
have attained a near-record high of Rs 57,788 per 10 gm even as the wedding season is under way. A similar peak was achieved during Covid in 2020 when international bullion rates rose exponentially. But then the rupee was more stable against the dollar at Rs 74.
Trade associations and jewellers had predicted this latest rise in 2022. They expect a correction (drop) by Rs 2,000-3,000 shortly.
For now, the yellow metal is evoking awe. In fact gold broke the benchmark Rs 60,000 per 10 gm in Pune on Thursday. But a correction of about Rs 1,000 occurred nationwide Friday. Silver came to cost Rs 69,539 per kg Friday.
On Friday IBJA (India Bullion Jewellery Association) rates in Mumbai were Rs 57,788 per 10 gm for 24 carat gold and Rs 52,934 for 22 carat gold, said national secretary Surendra Mehta.
"We are nearing the end of the wedding season. Households that have marriages coming up are buying gold at current high prices out of compulsion. Also whenever rates continue to rise steadily, individuals and investors flock to buy more of the precious metal because they believe prices will escalate further, fetching them a good return on investment," said goldsmith Jitendra Jain of Jugrajkantilal Jewellers, Zaveri Bazar. "Conversely there are others who are waiting for a further hike, to say Rs 60,000, to sell their old gold. No one wants to miss a good opportunity."
Zaveri Bazar witnessed robust footfalls as markets peaked Thursday — which ebbed as rates fell by Rs 1,000 on Friday.
Abhishek Pendurkar, owner of M V Pendurkar Jewellers in Dadar, echoed Jain's statement. He said, "Two distinct segments of clients have emerged. One consists of those who have been waiting since 2020 for prices to rise to 58,000-60,000 so that they can sell their old jewellery for a good price. Another group is that which is buying in anticipation fearing that rates will go up even more." Pendurkar explained how international factors like job layoffs by Google and Amazon, market uncertainty and the vagaries of real estate have all contributed to make gold a solid investment.
Indeed, buying sentiment remained strong in the Gujarati enclave of Borivli. Madhavi Phatak, operations manager of Om Jewellers at L T Road, said, "Rates seemed high 20 years ago, but people still purchased gold. And they seem high today, still they do! Jewellery is a bankable investment, and a wedding necessity in Indian culture."
Nitin Khandelwal, past chairman of GJC (All India Gem And Jewellery Domestic Council) had enough confidence to open a new showroom in Akola Friday. He said, "Fortunately international gold prices are not at an all-time high. If that were so, rates in India would hit Rs 75,000-77,000 per 10 gm given the (fall in) value of the rupee."