MUMBAI: A deadly fire broke out in a sizable slum in Mumbai's Malad East for the second time in a month. The incident resulted in one death, however, the identity of the deceased is yet to be known.
The blaze erupted at around 5pm on Monday in Appapada area of Malad East. The fire spread across 800 hutments and was further aggravated when over a dozen LPG cyclometer explosions occurred.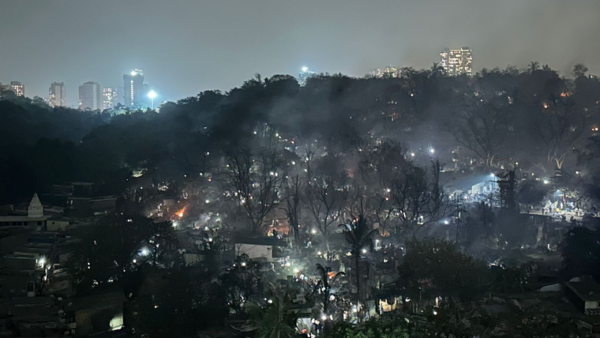 A search operation has been started by the fire department and the Brihanmumbai Municipal Corporation (BMC) to see if there are any additional bodies or missing people among the rubble.
Over a dozen of fire engines and jumbo water tankers along with ambulances were rushed to the site.
Last month on February 13 too, a 12-year-old boy died while eight others were injured after a blaze erupted in over 25 hutments around the same locality.
A civic official said, that last month's blaze also was near the current blaze site but eventually, the fire spread to that area now.
Former BJP corporator from Malad, Vinod Mishra, said, "As soon as I was informed about the blaze, I was rushed to the site. Had requested the authorities to try and douse the fire as soon as possible".
Senior municipal officials present at the scene of the incident claimed that because the entire slum was on forest land and was therefore an isolated land parcel, the flames did not spread anywhere.