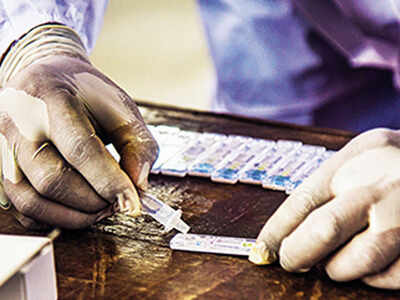 Contacts should be tested in 72 hours, says Centre
MUMBAI/NAGPUR: At a review meeting conducted by the Centre on Saturday, officials from 25 districts in the state that account for 60% of the Covid-19 cases over the past week in the country were directed to isolate as many asymptomatic patients as possible in institutional facilities.
They were also told to increase fines for Covid-inappropriate behaviour. The districts have been given a 5-pronged strategy: exponentially raise testing, ensure effective contact tracing, implement Covidappropriate behaviour, boost vaccination and strengthen health infrastructure.
Centre wants 30 contacts traced for every Covid-positive patient
The officials were among 46 district representatives from across India present at the meeting held by the Union health ministry to discuss ways to combat the second Covid wave. The Centre expressed displeasure over the spike in cases in some districts in the state, which has seen over 5 lakh new cases this month. The central team is learnt to have expressed concern about Nagpur, Pune and Aurangabad and held detailed discussions on these districts through video-conferencing. Stress was laid on ensuring treatment of patients at Covid care centres for better monitoring.
"They stressed on having an effective method of contact tracing. For every positive patient, the Centre has set a target of tracing 30 contacts. They should be traced, tested and isolated in 72 hours," a district collector who attended the video-conference said.
The central team said that studies had shown that while 90% of the people were aware about the importance of face masks, only 44% wore these.
"One infected person could spread Covid-19 to an average of 406 other individuals in a 30-day window period," the collector said. "This could be reduced to 15 by decreasing physical exposure to 50% and to a further 2.5 on average by decreasing physical exposure to 75%."
In a related development, the Centre declined to share results of the genome sequencing of 100 swab samples from Nagpur district, said sources in the Nagpur Municipal Corporation. The Centre also reportedly stated that there was no need for different standard operating procedures (SOPs) to contain the double mutant variant of the virus. It directed the Nagpur Municipal Corporation and district administration to implement year-old SOPs in an effective manner.
The state task force too gave a slew of suggestions to contain the second wave, from closure of public places like Juhu beach to a limited lockdown in Mumbai. One member suggested reducing train services to discourage travel for any reason apart from work or medical causes.
FacebookTwitterLinkedinEMail