MUMBAI: In a fresh advisory on Covid-19 preparedness on Saturday, the union government asked states to ensure enough supply of medical oxygen if and when a fresh outbreak occurs.
A senior BMC official said that the BMC has 27 pressure swing adsorption plants that could ensure close to 200 metric tonnes of liquid oxygen needed for the city daily.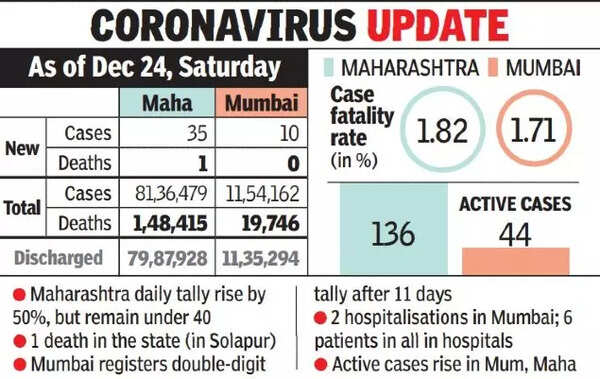 However, the official said that the current "Covid drill" should be viewed as pre-emptive steps rather than as a measure of severity. "It's still Omicron that is in circulation. The threat of a big wave is low,'" said the official. When Omicron hit Mumbai, the daily tally climbed to 20,000+ cases on some days; on Saturday, only 10 Covid cases were reported in the city. The BMC 'assurance' comes amid reports that union health minister Mansukh Mandavia on Saturday said the RNA of the Covid-causing SARS-CoV-2 virus was found in sewage samples in Mumbai and Delhi.
When contacted, BMC executive health officer Dr Mangala Gomare said the city has an active wasterwaste surveillance in which samples that test positive for Covid. "We get positive samples, but we are not aware if the positivity rate has gone up in recent days," she said. State surveillance officer Dr Pradip Awate said there have been no intimation from the Indian Council of Medical Research of an increase in positivity rate in sewage water.
Meanwhile, BMC officials said that the war rooms set up during the first wave of the Covid pandemic in 2020 are operational. "Random testing of international patients has started at airports, but we haven't yet decided to start testing at railway stations or bus stops like we used to in the past," said Dr Gomare.
While hospitals have been instructed to keep their Covid beds ready, the BMC officials said that isolation rules will remain the same. "International travellers who test positive will be sent to Seven Hills if they prefer," said Dr Gomare. She, however, said that the practice of sealing homes or entire floors due to Covid-positive cases will not be followed as of now.